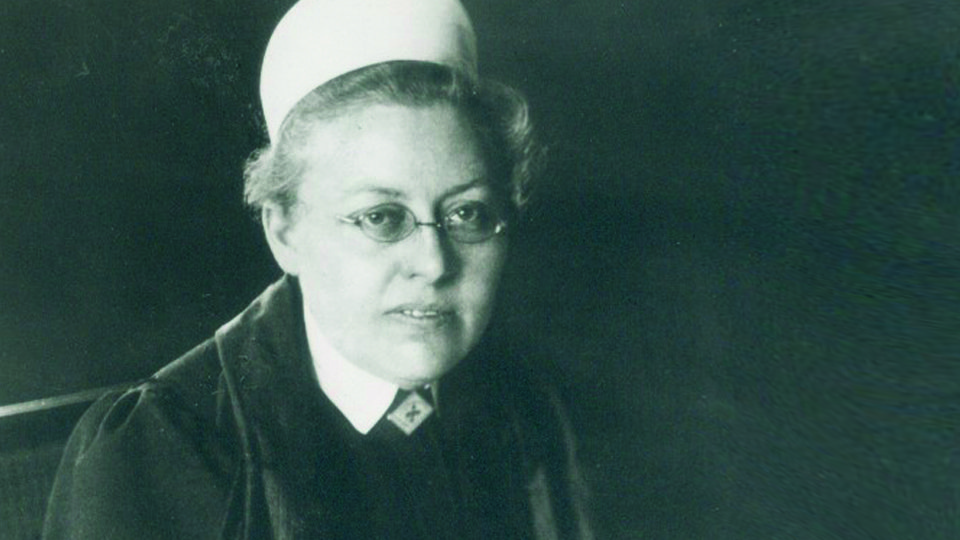 Fact #1
Agnes Karll was born 25th March 1868, the third child of a family of estate owners in Embsen in the Lüneburg Heath. At 14, she began training as a teacher in Schwe­rin and, from 1884, also started working in this profes­sion. She met the feminist Johanna Willborn, who gave her a new perspec­tive on life. Karll was not happy as a teacher and, in 1887, began to train as a nurse at the 'Clemen­ti­nen­haus' in Hanover, which belon­ged to the Red Cross. Here, she found the field of work that would define the rest of her life.
Fact #2
Agnes Karll's training was progres­sing to a high standard, but Karll quickly reali­sed that nurses were badly off and profes­sio­nally unorga­ni­zed. Nursing was seen as an act of charity, which should be carried out for free. The working hours were long – over 20 hours a day – there were no breaks, no holidays, and nurses had a poor diet. The training was unregu­la­ted and there was no social insurance. As a result, Agnes Karll turned to private nursing, moved to Berlin, and eventually accom­pa­nied someone to the USA, where she came to know and appre­ciate Ameri­can nursing condi­ti­ons. However, the challenges of private nursing pushed her strength to the limit.
Fact #3
In 1902, Agnes Karll, together with a group of other feminists, decided to become politi­cally active and found a profes­sio­nal associa­tion for nurses. A year later, the time had come: the "Berufs­or­ga­ni­sa­tion der Kranken­pfle­ge­rin­nen Deutsch­lands" (B.O.K.D) – 'Profes­sio­nal Associa­tion of German Nurses' – was born. Another year later in July 1903, England, the USA, and Germany founded the Inter­na­tio­nal Council of Nurses (ICN) in Berlin, which Agnes Karll joined along with her 300-strong B.O.K.D. In 1906, the first B.O.K.D. magazine, Unterm Lazarus­kreuz, came out, and the first statu­tory nurse training began in Prussia. Then, in 1909, Agnes Karll became presi­dent of the ICN.
Fact #4
Agnes Karll died of cancer on 12th Febru­ary 1927, aged 59. The B.O.K.D., which had tempo­r­a­rily been banned by the Nazis, contin­ued to be influ­en­tial after the war and remains influ­en­tial to this day through the DBfK (German Nursing Associa­tion). The same is true of Karll's achie­ve­ments: nursing has become a respec­ted profes­sion, nurses are paid a salary, have regula­ted working hours, and have social insurance. The process of profes­sio­na­li­sing nursing, which Karll helped to set in motion, conti­nues to this day.
Fact #5
Agnes Karll gave her name to the Insti­tute for Nursing Research in Berlin (AKI), to clinics (e.g. in Bad Schwar­tau and Laatzen) and nursing schools. There are also streets and nursing homes named after her. Further­more, the DBfk has awarded the 'Agnes Karll Prize' several times.